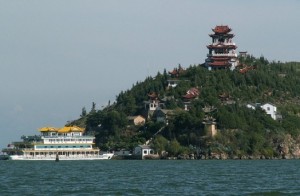 Pick up at your hotel and transfer to Wase Village Pier, from where you will start today's hiking tour around the beautiful Erhai Lake.
Hiking along the lake, you will see the reflection of Cangshan Mountain in the lake and the local people fishing on their small boat. Have a local lunch at the pretty Shuanglang Fishing Village.
Continue your hiking by traveling through some local villages and take pictures. You will pass the Haichaohe Village and Machang Village and then arrive in the Shangguan Market. Be transferred back to hotel after the tour.
By