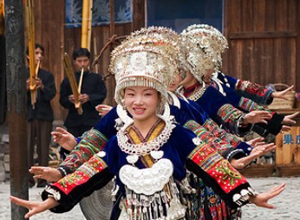 Day 1 Arrive in Lijiang (L)
Lijiang airport to hotel transfer. Visit Lijiang Old Town. It is a famous minority city with beautiful scenes, long history and splendid culture. Move on to the Wangu Tower on the top of Lion Hill. The pure wood tower overlooks the scenery of Lijiang at its foot and looks out to Jade Dragon Snow Mountain in the distance.
Day 2 Lijiang (B, L)
First come to appreciate the Baisha Murals at Baisha Village that nestles beneath the lofty Jade Dragon Snow Mountain. The murals, painted over a thousand years ago, displays the life stories of the Tibet Buddhism, Confucian and Taoism. The Jade Dragon Mountain is snow-capped year round. You would take the cable car from its mountainside Dry Sea meadow and reach a height of 4,506 meters. Walk around and enjoy the majestic mountain views.
Day 3 Lijiang (B, L)
In the morning, drive 2.5 hours to Changsheng village of Qiaotou town where the Tiger Leaping Gorge hiking starts, with the First Bend of Yangtze en route. Firstly, hike two hours to Naxi Family guest house, have a lunch there. Then continue to hike another 2 hours on the 28 Bends, a difficult route up the gorge trail but providing remarkable views. Hike another 2-3 hours and we will arrive at the Halfway Guest House for overnight. The guest house offers a great view of Jade Dragon Snow Mountain and overlooking the Jiansha River Valley.
Day 4 Lijiang (B, L)
We will get up in the early morning and hike down 2 hours to Tina's Guest House, passing through the famed Guanyin Waterfall and Guanyin Gorge on the way. After lunch at Tina's, walk 1 hour down the steep cliff to the narrowest part of the gorge where a tiger can easily jump over. Walk 1 hour back to Tina's and drive half an hour to reach Xincun village pier, the lower section of the Gorge where you will take ferry across the river to Daju pier (1.5-2 hours). From Daju pier drive 2.5 hours to Lijiang.
Day 5 Depart Lijiang (B)
Hotel to Lijiang airport transfer. End of our service.
Got a question? Ask us here. We will reply to you within 12 hours.